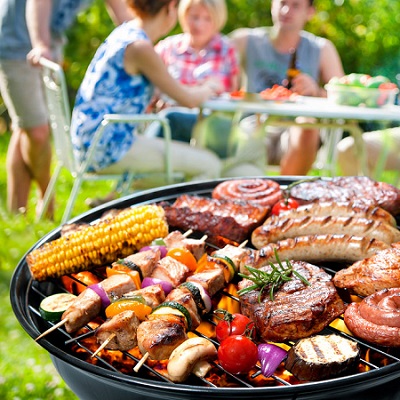 If you like eating al fresco (in the open air) such as at a picnic or barbecue, then you should be aware of the possible food safety risks of serving perishable food (especially if you are the host!).
For example, if you would normally keep a dish in the refrigerator (think potato salad or a trifle), then you should keep it as chilled as possible outdoors, even more so in the summer months. One plan of attack is to strongly consider using chilled bowls (who knew?) powered by ice cubes or ice packs to keep your salads and other cold foods safe outdoors for an extended period of time.
Another food safety concern during grilling season is allowing raw meat and its by-products to come into contact with already-cooked or prepared foods or utensils (grilling or dining). Basically, you don't want raw chicken juices touching your vegetable salad ingredients, for example. Some ways to minimize the risk of this happening is to have two piles of dishes ready – one for raw foods and one for cooked or prepared foods. Similarly, you can buy two sets of preparation and serving utensils, making sure to not cross-contaminate anything.
Dining outside can be a wonderful part of the summer months, but food poisoning is anything but. For more tips on keeping your food (and family/guests) safe, check out this article.